Vacuum Transformer Oil Purifier
Vacuum Transformer Oil Purifier
Degasification Treatment of Vacuum Transformer Oil Purifier
March 6,2017.
Vacuum Degasification of Double Stages Vacuum Transformer Oil Purifier is the best method to solve problem of acetylene and hydrogen:
Application of Vacuum Transformer Oil Purifier
It is widely used for oil filtration processing and drying during various types of large transformers installation and maintenance, and 500KV-1000KV high voltage transformer oil purification treatment, also for high-grade new insulating oil dehydration and degassing processing. Meanwhile, Transformer Oil Purifier can remove acid, free carbon and impurities, after treatment, the dielectric strength can reach 65kv.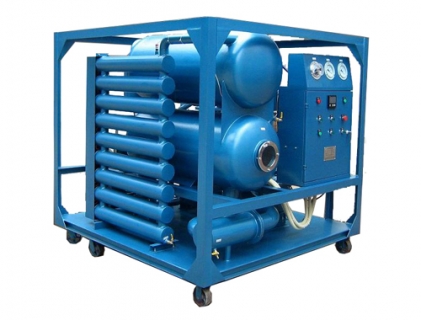 The working principle of Vacuum Transformer Oil Purification Plant
1.Negative pressure separation, mechanical precision filtration, molecular adsorption, vacuum drying principle and spiral spray atomization oil film flash technology can remove moisture, impurities, free carbon, acid value, colloid etc.
2. Comparing with the ordinary vacuum transformer oil purifier, double stages vacuum transformer oil purifier equips roots vacuum system, two high-vacuum horizontal separation vessels, three-dimensional separation tower system, automatic infrared progressive scanning defoaming control system and flash rapid evaporation system. These advanced technology can improve the capacity of dehydration, degassing.
Technical Characteristics of Transformer Oil Purification Plant
One pass: water content: ≤ 50mg / L, gas content: ≤ 10% (volume fraction), breakdown voltage: ≥ 50KV
Two pass: water content: ≤ 15mg / L, gas content: ≤ 0.1% (volume), pressurevalue: ≥ 60KV
Three pass: water content: ≤5ppm, residual gas: ≤0.05%, acetylene content is 0, pressure: ≥75KV
Double Stages High Vacuum Transformer Oil Purifier can be used as a separate vacuum source for transformer equipment vacuum drying and oiling treatment.