Vacuum Transformer Oil Purifier Machine
Vacuum Transformer Oil Purifier Machine
Online & Offline Vacuum Transformer Oil Purifier Machine
June 4,2018.
Higher moisture content in the insulation material and the insulating oil is one of the major reasons of transformer failures. If there is existence of a seapage, moisture may enter into the device in the form of water or moisture. Small necessary oil leaks, specifically in the oil air conditioning piping, will even allow dampness ingress. Meanwhile, moisture and impurities is also created by the destruction of padding as the transformer ages. To reduce the probabilities transformer failing, it will use Vacuum Transformer Oil Purifier to do dehydration, degassing and fine filtration.
ACORE Filtration Co.Ltd tends to be pioneers in oil purifier machine, we have been in production Vacuum Transformer Oil Purifier Machine for the past twenty two years. ACORE has got also inked a technological collaboration for manufaturing oil purifier machine, We have been giving outstanding service to Electrical power Boards, Elemental power channels, Transformer producers and other clients all over the country.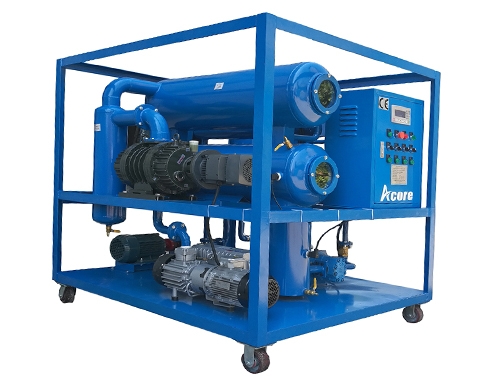 Features of ACORE Online Transformer Oil Purifier
1. The oil purifier machine is completely installed a transformer constantly keeps upon removing the l moisture while transformer is within charged phase.
2. During the purification process, the water content is continually monitored.
3. This Online Transformer Oil Purifier not just remove water from transformer oil, it also removes gas and impurities efficiency
4. The transformer oil is distributed through a number of cylinders full of specially created cartridges which absorbs moisture content as well as eliminates solid communication from oil.
5. The Online Transformer Oil Purifier Machine will continue maintaining PPM level that is required for durability and requirement of transformers.