Transformer Oil Filtration System
Transformer Oil Filtration System
Online Transformer Oil Filtration Treatment System Manufacture By ACORE
June 19,2018.
The Online Transformer Oil Filtration Systems is mainly used in areas with high air flow humidity as well as high internet capacity load utilization, where the transformers are shut off from the web for installing oil purification plant, the transformer can be reconnected with the online. The transformer oil is constantly treated as the transformer is within normal procedure. Special guidance devices attached to the transformer and the Transformer Oil Filtration Systems to guarantee optimum safe operations.
The internal oil circulation of transformers cooling system is not really much impacted by the exterior treatment blood circulation. After Transformer Oil Treatment is finished, the transformer is once again disconnected through the net for any short time with regard to de-installation in the supervision gadgets and the oil based treatment vegetable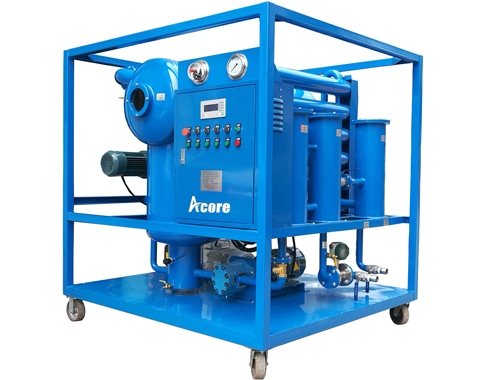 Our Online Transformer Oil Treatment Machine is designed to really thoroughly degas, dehydrate and also remove particles along with carbon penalties to rapidly restore the particular dielectric strength of transformer oil, insulating oils in load tap changers, cable and circuit breakers.
The design of Transformer Oil Filtration System is a powerful oil purifier that utilizes heat in conjunction with deep vacuum purification to quickly remove mixed combustible gas and dampness to under 3 PPM. The Transformer Oil Treatment Machine also contains multiple phases of high rating filter systems for the associated with fine contaminants. Common choices include fullers earth regeneration vessels for acid decrease, processing together with storage aquariums, 3-Phase power generator to supply the appropriate power to the device and oxidation inhibitor intro devices.
The Online Transformer Oil Treatment Machine consist of powerful machine pumps along with auxiliary link points that provide easy link with transformers to be able to apply heavy vacuum throughout maintenance or even commissioning of recent units.
ACORE built Online Transformer Oil Filtration System within custom heavy-duty trailers hanging on trucks for a long distance moving to satisfy your specific requirements. We focus on delivering effective systems inside compact and also highly transportable and maneuverable platforms to use in substations, power equipment and power industry.