Vacuum Transformer Oil Purifier
Vacuum Transformer Oil Purifier
Portable Transformer Oil Purifier For Oil Filtration Process
October 26,2018.
ACORE Portable Transformer Oil Purifier is built to process the biggest generation power plant and transmitting transformers around world.
With our Portable Transformer Oil Purifier, we are able to perform on-site large transformer insulation dry-outs. By doing this we could cut out the actual unnecessary expense of removing the transformer as well as transporting this to a restoration facility launched not really damaged. This can help our clients in order to drastically decrease plant down-time from Transformer Oil Filtration Process.
The high performance transformer oil filtration machine have the capability as following
· Improve dielectric strength as much as 75 kv with brand new oil
· Remove water through 50 PPM down to 3ppm specification
· Remove gases coming from full vividness with air flow (10 for you to 12%) right down to less than 0.1 % through volume
· Remove 98% associated with particles more than 0.5 micron or 1 micron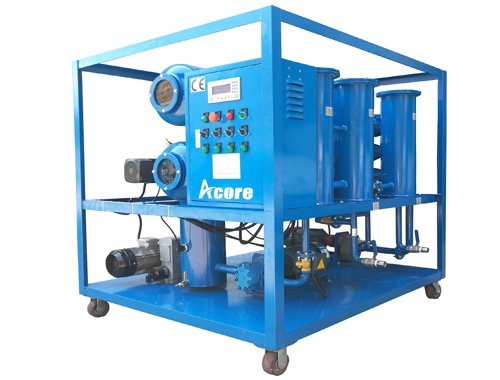 We have been developing excellent Portable Transformer Oil Filtration Machine, which provide treatment of transformer oil exceed even the strict ICE specification with regard to transmission and purification of transformer oil.
The oil purification treatment is based on our high performance Portable Transformer Oil Purifier, which adopts latest technology of transformer oil filtration, vacuum dehydration and degassing treatment.