Vacuum Transformer Oil Purifier
Vacuum Transformer Oil Purifier
Vacuum Transformer Oil Purifier For Oil Filling - ACORE Filtration Co.Ltd
May 4,2018.
DVTP Vacuum Transformer Oil Purifier Machine from ACORE company not only completely dehydrate, degas and remove impurities from all kinds of insulating oil and transformer oil, but also can increase the oil dielectric strength. Moreover, DVTP Transformer Oil Purifier can also be used as an independent vacuum source, vacuum filling of electrical insulation equipment. Which not only can greatly shorten the oil purification time for transformers installation and maintenance, but also can improve the quality of used oil and new oil.
During vacuum oil filling, most transformer manufacturers or power stations also use more advanced Vacuum Transformer Oil Purifier Machine. The advantage of Vacuum Oil Filling is high efficiency, easy to control the speed and flow rate of oil. During oil injection, the transformer oil can be heated to a specified temperature, changing the previous process of transformer heating, vacuuming and oil injection separately. It is easier and more convenient to operate. The important parameters such as vacuum degree, oil filling speed and oil temperature are more easily ensured when the transformer is filled with oil, which provides a guarantee for the vacuum filling of the transformer.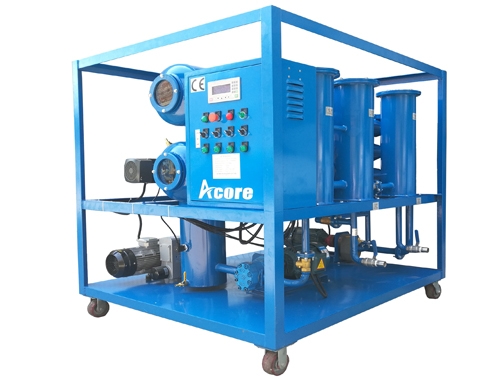 Procedure of Vacuum Oil Filling:
When Vacuum evacuation of transformers, connect the outlet of the evacuated equipment with the vacuum extraction port of Vacuum Transformer Oil Purifier Machine, open the valve, close the remaining external valve, and turn on the vacuum pump. The equipment can reach vacuum state after the vacuum pump has been working continuously for a certain period of time, and its vacuum degree can be observed from the vacuum gauge.
The operation method of vacuum oil injection is as follows:
(1) Connect the oil inlet of the vacuum oil injection equipment with the oil outlet of the Vacuum Transformer Oil Purifier Machine, and connect the oil inlet of the oil purifier machine with the oil drum. Vacuum pumping ports on the transformer oil purifier Vacuum injection equipment should be connected to open the outlet valve.
(2) Start the vacuum pump and vacuum the equipment. When the vacuum degree reaches the user requirement (observed from the vacuum gauge), open the oil inlet valve and start the oil pump. The oil is injected into the equipment under the action of the oil pump.
(3) When the oil level reaches a certain value, turn off the oil pump. Then the Transformer Oil Purifier can do vacuum oiling and vacuuming the equipment.