TCF Online Load Tap Changer Oil Purifier
TCF Online Load Tap Changer Oil Purifier
TCF Online Load Tap Changer Oil Purifier
March 13,2017.
Description:
TCF Online Load Tap Changer Oil Purifier adopts advanced technology and independent research intellectual function, it is mainly used for circulating purification of insulating oil in 35kV and above transformer on-load tap-changer. TCF can effectively remove the free carbon and metal particles from insulating oil of the on-load tap-changer during the normal operation of the transformer system, meanwhile, it also can reduce the trace moisture and ensure the breakdown voltage and service life of the oil, and effectively improve the safety and reliability of on- load tap changer, greatly reducing the number of power outages, extend the maintenance cycle, improve power quality, increase the service life of oil, TCF Load Tap Changer Filtration System is a kind of energy-saving environmental protection products.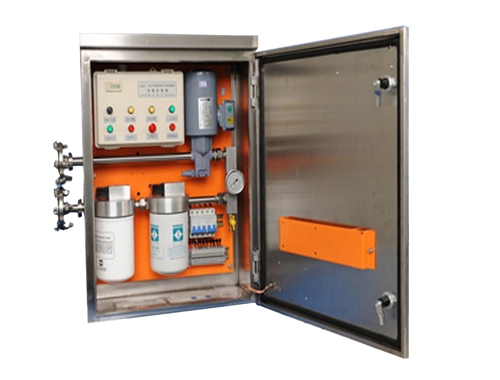 Working:
TCF Online Load Tap Changer Oil Filter consists of embedded pump motor and two-stage precision filter, pressure monitoring, computer numerical control unit, electronic and hydraulic multi-level protection latching unit, fault detection and diagnosis system, temperature Humidity control and remote monitoring system and other components.
During transformers working, and the power switch, TCF Load Tap Changer Filtration System can do purification automatically in accordance with the set mode of operation regularly. When the filter is blocked, the system automatically alarm and turn off the motor, stop the working. There are three operating modes: manual, automatic and timing. Meanwhile, it has the functions of system clock setting, mode selection, record inquiry, manual running time setting, automatic running time setting, timing running setting, default running parameter downloading, parameter querying, tap changer action number recording, accumulating oiling time recording, pump motor phase sequence and overload phase protection, pressure overload protection etc.
Features:
1.Two stages precision filter, large capacity of holding pollutants and long service life.
2.High-performance coagulation active adsorption material can remove moisture, organic acids and other materials and maintaining good characteristics of insulating oil.
3. LCD display, intuitive interface, simple operation.
4. Automatic pressure alarm shutdown system, automatic overload protection system, automatic temperature control system and many other advanced technology to protect the equipment fully automated and safe operation.
5. PLC integrated protection and control technology with manual, automatic, timer start, on-load tap changer self-locking operation, working time setting and has recorded the number of actions, alarm and other functions.
6. TCF Online Load Tap Changer Oil Filter installs intelligent temperature controller, When the temperature is below 5 ° C or when the humidity reaches 80%, the heater start automatically, which ensure the system working in a variety of environments and achieve all-weather unattended automatic operation.