Vacuum Hydraulic Oil Purifier Machine
Vacuum Hydraulic Oil Purifier Machine
Vacuum Hydraulic Oil Purifier Machine Specifications - ACORE Filtration Co.Ltd
July 25,2018.
Vacuum Hydraulic Oil Purifier Machine is a high quality oil filtration system developed by ACORE Filtration Co.Ltd. It is the preferred oil purifier machine for users at present, and the equipment is also subject to the praise of majority of users, quality or service, the Vacuum Hydraulic Oil Purifier is reliable, cost-effective, high efficiency for users.
ACORE's Vacuum Hydraulic Oil Purifier Machine includes a special gear pump driven by motor. It has low noise, strong self-priming ability and stable operation. The high-pressure pipeline is equipped with overflow protection device, which can effectively protect the safety of the hydraulic system. Protects the oil pump and extends the life of the main filter element. Fine filter cartridges can be selected according to different needs of users to achieve the desired results. The Hydraulic Oil Filter Machine adopts quick opening structure, which can quickly and quickly open the upper cover and replace the filter element with a simple tool. The panel is equipped with a pressure gauge, which continuously indicates the operating condition of the system and the pollution process of the filter element during operation. Features.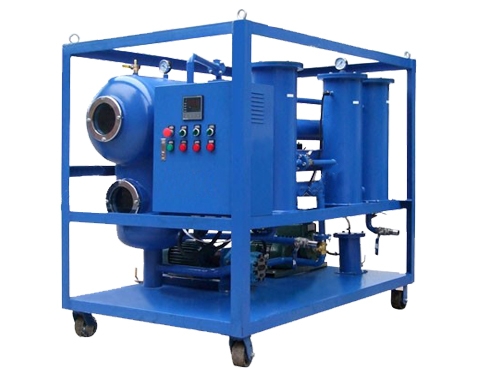 Vacuum Hydraulic Oil Filter Machine can quickly remove moisture, gas, impurities and volatiles from oil, improve oil quality, restore lubricant viscosity, flash point and performance, and ensure the normal operation of hydraulic system, power system and lubrication system. Hydraulic Oil Filter Machine has high filtration precision and strong ability to filter out impurities. we produce small hydraulic oil filter cart with multi-stage cartridge filter, pre-stage with magnetic filter In addition to strong capacity of holding impurity, the coarse filter uses a large flow rate cleanable filter element, high filtration efficiency, can remove a large amount of impurities in the oil, and a high-efficiency oil filtration system of "glass fiber", with large capacity, high strength and long service life.
ACORE Hydraulic Oil Filter Machine removes moisture, emulsification ability, multi-functional lubricating oil, vacuum oil filter machine adopts the world's first coalescence separation technology, special polymer material emulsification device, which can quickly and easily separate oil. Liquid water and free water can also remove the dissolved water in the oil, which can make the emulsified lubricating oil clear and transparent, and meet the requirements of hydraulic lubrication equipment. Vacuum Hydraulic Oil Purifier Machine is suitable for the filtration treatment of high-precision industrial lubricants such as hydraulic oil, lubricating oil, refrigeration oil and anti-wear hydraulic oil that are not qualified in oilfield, mining, metallurgy, electric power, transportation and manufacturing industries.