Vacuum Transformer Oil Purification Plant
Vacuum Transformer Oil Purification Plant
Vacuum Transformer Oil Purification Plant
July 6,2017.
The dielectric insulating oils must have the required qualities during the time of initial impregnation and filling up at the manufacturer and later conserve the same high quality in the area operation. The ACORE Vacuum Transformer Oil Purification Plant upgrades the new and used power transformer insulating oils. These techniques and gear were created as a result of four decades of encounter in vacuum purification of transformer oil. This high vacuum treatment is utilized for dehydrating and degasification of electric transformer oils to increase and keep their dielectric strength. The particular processing consists of the removal of total free and dissolved water, mixed air as well as gases and also particulate.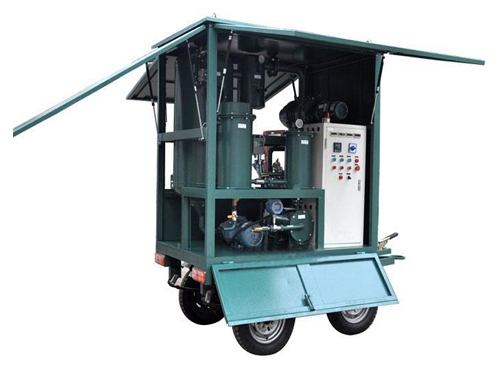 The typical overall performance in a single go through an ACORE Transformer Oil Purification Plant is as comes after:
•Dehydration-At minimal oil temps of 80° F water removal is actually from one hundred ppm in order to less than ten ppm.
•Degasification-ACORE Vacuum Oil Purification System reduce resoluble air content material in a single move from complete saturation of around 12% to be able to less than zero. 25%. Some other gases within solution along with oil, such as combustibles, will also be removed.
•Particulate matter-The windscreen cartridge offers removal of particulate matter to some nominal five microns. Digging in a filtration system downstream from the chamber will certainly remove particulate matter.
The most crucial applications of higher vacuum transformer oil purification plants are in the industry of extra large voltage transmitting and in the particular manufacture regarding electrical equipment for it. Additionally, the high machine process can be used in the lacks of cable connection oils. Outside the electrical business, this process is employed for insufficient water and degasification of skin oils for palpeur and electric equipment, cleaner pump closing oils, braking system fluids, a fridge oils-including phosphate esters along with silicones. ACORE offers the Vacuum Transformer Oil Purification Plant designed for maxi- mum effectiveness in your procedures, performance examined by specialists, requiring bare minimum maintenance, in addition to providing lengthy, trouble-free support. Backed by the entire resources involving ACORE PURIFICATION COMPANY specialized specialists, in addition "know-how" plus thorough investigation, your Vacuum Oil Purification System is distinctive. Designed for unwatched operation and even suitable for procedure on vitalized equipment total monitoring devices are also available. More Transformer Oil Purification Plant,you can visit acoreoilpurifier.com.