Dielectric Oil Tester
DST Insulating Oil Dielectric Tester,Breakdown Voltage Testing Set
July 3,2018.
ACORE DST Insulating Oil Dielectric Tester provides replicable, accurate testing of break down voltage of insulating liquids used in electric equipment. DST Insulating Oil Tester is light weight, durable units for field and laboratory using.
The DST Insulating Oil Tester provide 80kv and 100kv AC output voltage respectively. It has automated voltage rates-of-rise, and programmed voltage setting with indicating the actual flashover attention. Various examination cells can be found.
The DST Insulating Oil Dielectric Tester is a completely automatic oil breakdown voltage testing set. The international standards tend to be pre-programmed in to the controls. Only press beginning button and also the test is completed. Custom analyze sequences may also be programmed. Examination results saved internally offered to a PC or imprinted using the built-in printer.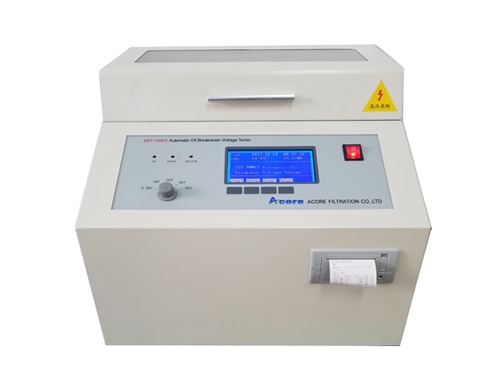 The HV transformer area is a leak-proof conventional metal tank having a gasket-bolted cover. The enclosures are made of thicker aluminum. These kinds of instruments endure the rigors involving frequent transportation and substation use.
DST Oil Breakdown Voltage Testing Set help assess the current condition of these essential oils within electrical power equipment, for example transformers, capacitors, switches, and so on the test out results.
DST Insulating Oil Tester has been created for use in labs, as well as for transportable use throughout on-site examining. The oil dielectric tester is designed for constant operation within the laboratory. This oil breakdown voltage testing set is designed for long term monitoring connected with insulating necessary oil during creation processes.
Measurement technologies and energy electronics of DST Insulating Oil Dielectric Tester is made for exceptionally lengthy service life. Top quality glass testing vessels along with incorporated micrometer for simple setting from the electrode range. Precise, dependable, and reproducible measurement outcomes over lengthy periods.