Lube Oil Flushing System
Hydraulic Lube Oil Flushing System - ACORE Filtration Co.Ltd
August 6,2018.
ACORE VHF Hydraulic Lube Oil Flushing System is mainly used for the regeneration and purification of waste industrial hydraulic liquids to improve the performance of oil and prolonging the service life of oil. It can quickly remove harmful components such as moisture, gas and impurities in lubricating oil, and is widely used in electric power, oil and gas, mining, machinery manufacturing, steel, metallurgy, chemical, railway, ship and various large enterprises.
VHF Hydraulic Oil Flushing System uses a vacuum oil inlet to install a tubular rotary injector, which reduces the resistance, accelerates the rotation speed, increases the oil and gas separation effect, increases the regeneration and purification function of the metamorphic oil, and increases the silica gel oil purification system. The silica gel net oil and the impurity filter are integrated into one body. After the impurities are filtered out by the mildly deteriorated transformer oil, the adsorption is regenerated by the silica gel oil purifier to achieve the qualified oil standard, the plate frame filter, the filter paper or The filter cloth is used as a filter medium, and the particulate matter with a large amount of impurities in the oil-reducing product is filtered.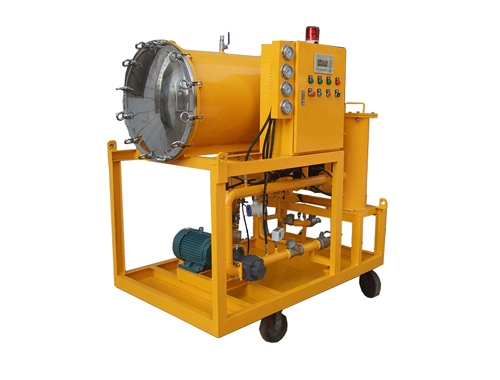 VHF Hydraulic Oil Flushing System integrates the above three kinds of filters to completely remove pollutants and moisture from the oil. And can restore the color of the oil before pollution. A multi-purpose machine. High filtration precision, suitable for handling oil varieties. The Hydraulic Lube Oil Flushing System adds a first-stage filtration on the basis of two-stage filtration, and the filtering effect is more fine. The equipment is strictly welded, polished, pickled, cleaned, sprayed, oil-proof and rust-proof. Made by the manufacturing process, the visual effect is excellent. The design of the device is simple, easy to use, and the oil filtering effect is relatively clean. It is mainly used for filtering hydraulic lubricating oil and is highly praised by users. The product is mainly for new high-end users and foreign users.
Application:
1. Filtering when the hydraulic lubrication system is refueling
2. Bypass filtration when the hydraulic lubrication system is working
3. The circulation of the hydraulic lubrication system before it is put into operation
4. The oil of the hydraulic lubrication system is pumped out without the pump filter of the equipment itself.
VHF Hydraulic Lube Oil Flushing System includes a special gear pump driven by a motor, which has the characteristics of low noise, strong self-priming ability and stable operation. The high pressure pipeline is provided with an overflow protection device to effectively protect the safety of the hydraulic system. The Hydraulic Lube Oil Flushing System protects the oil pump and extends the life of the main filter. The fine filter can select different precision according to different needs of users to achieve the desired result.