Lubricating Oil Purifier
Solution For Problem Of Lube Oils Emulsifying - Acore Oil Purifier
September 21,2017.
Water and vapor dissolved into lubricating oils will make lubricant emulsification and change the color, usually become milky white. So we can use Lube Oil Purifier to break emulsification, remove water and recover the color.
Lubricant emulsification generally use Vacuum Lubricating Oil Purifier, such as our VLF Vacuum Lube Oil Purifier, which can effectively remove the water and impurities, so that the oil color to restore clarification, so that the oil can be reused.
VLF Vacuum Lubricating Oil Purifier is mainly used for the machinery, metallurgy, mining, petroleum, chemical and other fields, the hydraulic oil, mechanical oil, cooling oil, refrigeration oil, gear oil, gasoline engine oil, diesel, heat treatment oil and other Lube Oil Purification, it can improve the quality of oil and restore its performance, meanwhile, ensure the normal operation of the hydraulic system, power system and lubrication system.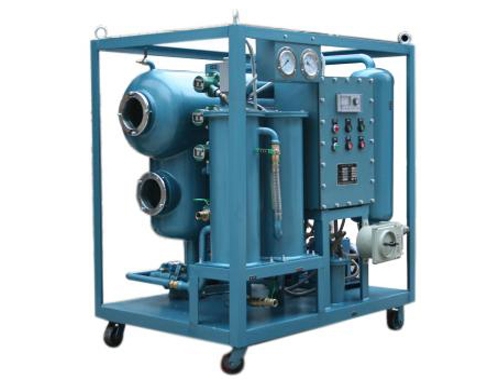 Characteristics
● Removing impurity ability, large area, deep layer of precision filtration, equipped with permanent magnetic filter to remove iron impurities.
● Unique degassing, dehydration system, the use of three-dimensional flash technology, multi-level oil and water separation technology, the rapid separation of oil in the water and gas.
● The heating system uses the optimized piping design to ensure uniform heating and stable oil temperature.
● Automatic temperature control system, automatic level control system, automatic oil foam control system, automatic pressure protection system and excellent configuration, to ensure high-performance equipment operation.
● precision filtration system, multi-level filter step by step encryption, large amount of pollutants, can effectively remove the oil in the mechanical impurities, and configure the filter contamination degree of automatic detection.
● Localized design, low noise, easy operation, long maintenance interval, low energy consumption to save operating costs.
● Equipped with filter replacement indicators, filter saturation stop device.
● With leakage, overload load shutdown device to protect the motor.
● With phase sequence, phase loss protection, sudden shutdown safety control.
As a Oil Purifier Manufacturer, Acore Filtration Co.,Ltd is committed to providing customers with high quality and efficient Lubricating Oil Purifier with a reasonable price and good quality.