Turbine Oil Purifier
Turbine Oil Filtration Machine from ACORE Oil Purifiers Supplier in China
August 1,2018.
Turbine Oil Filtration Machine Supplied by ACORE is ideal oil purifier for removing large amounts of water, gases, and particle, which is wildly applied in various power plants, steel plants, petrochemicals, coal mines, cement plants, ships, power stations, industrial and mining enterprises, and other machinery industries.
ACORE TOP Turbine Oil Filtration Machine adopts new technology, such as gravity sedimentation method, coalescence separation method, oil-water separation method, vacuum separation method, etc., and has excellent ability to remove water and emulsification. (It can directly remove 80% of the water in the oil), effectively decompose the water in the severe emulsified oil, accelerate the rapid dehydration ability, and use the German three-dimensional flashing technology to spray the heated liquid oil to spray the film, increasing The membrane area of the oil molecules makes the dehydration effect 2 to 3 times faster than other oil filter machines. It can separate a large amount of water from the oil and also remove trace water from the oil. TOP Turbine Oil Purification System has dehydration fast and strong filtration performance, and an acid removing device is added to degrease the contaminated oil, so that the oil system with serious pollution can be restored to the control of motor oil pollution. Within the Standards, it can be run separately or in series.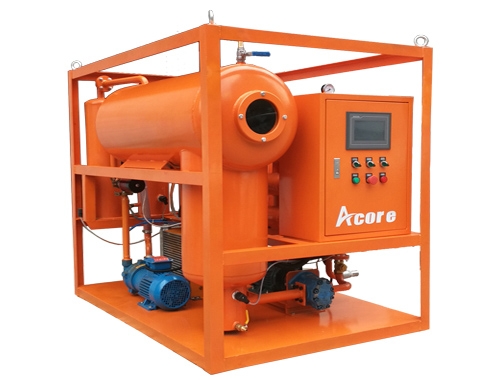 TOP Vacuum Turbine Oil Purification System uses advanced production technology, fully absorbs advanced filtration technology and produces and sells various precision series of oil purification system, including precision oil purifier, high pollution net oil machine, vacuum water removal device. , centrifugal oil purifier, vacuum oil purifier, ultra-fine oil purifier. TOP Turbine Oil Filtration Machine is widely used in hydraulic systems, lubrication systems, cleaning systems and diesel fuel systems for steel, petrochemical, electric power, railway, marine, automotive and manufacturing, paper, engineering equipment, hydraulic machinery and other industries. Deep-level precision filtration of lubricants used in various equipments to achieve complete and effective prevention and control of equipment lubricants. The ultimate benefit is to reduce wear and failure and extend machine life and extend oil change time. Reduce the workload and reduce maintenance costs.
Turbine Oil Purifier Machine utilizes the new vacuum drying principle, separation engineering and precision filtration technology to remove moisture, gas and impurities in various mineral oils efficiently and reliably under vacuum conditions, and can not stop power or stop production. If the oil is not replaced, the filter paper is not used, and the transformer is energized, the unqualified transformer oil is treated to make the oil meet the national standard, military standard and international standard. Turbine Oil Filtration Machine is used to treat unqualified turbine oil. It is widely used in the on-line filtration of turbine oil, gas turbine and turbine turbines in electric power, chemical industry, papermaking and metallurgy industries to ensure unit adjustment and normal lubrication system. Work, using new methods of agglomeration and separation, as well as low viscosity hydraulic oils and cooling oils and other low viscosity lubricants that need to remove large amounts of moisture and achieve precision filtration of impurities.
As Turbine Oil Purifier Supplier, ACORE Turbine Oil Filtration Machine TOP model is suitable for enterprises that use turbine oil in electric power, nuclear power plants, petroleum, chemical, metallurgy, machinery manufacturing, mining, etc., to handle unqualified turbine oil, especially suitable for treating severely emulsified turbine oil. On-line processing of turbine oil in turbines, turbines, gas turbines, etc., to achieve unattended on-line filtration operation, to ensure unit conditioning, lubrication system work properly, and to extend the maintenance cycle of the unit. TOP Turbine Oil Purifier Machine adopts the technology of combining large-area three-dimensional vacuum flashing and polymer materials. The polymer magnetic material has superior demulsibility and dehydration ability, and the emulsion is completely emulsified, and the oil is not easy to be emulsified again.