Transformer Oil Filtration Machine
Transformer Oil Filtration Machine
Why Choose ACORE Transformer Oil Purification Plant
July 24,2019.
ACORE DVTP Transformer Oil Purification Plant permits processing of oil in a power transformer, while on-load and off-load. This method is known as transformer oil purification processing.
DVTP Transformer Oil Purification Plant eliminates water, strong particles, air flow and other gas present in the actual dielectric liquids. The procedure of the DVTP Transformer Oil Purifier is founded on the principle associated with vacuum dehydration and degassing combined with filtration to get rid of particulate contaminants.
The Transformer Oil Filtration Machine is designed to deal with power transformer while on load. It is an incorporated unit comprising a mobile Oil Purifier machine installed on wheels, as well as incorporates a good isolation program and has link accessories.
Along with on-load processing of Transformer Oil Filtration, the particular Oil Purifier can be used for your treatment of insulating fluid.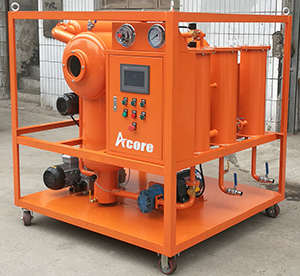 Advantages of the ACORE DVTP Transformer Oil Filtration Machine
· High overall performance water, gas and particulate removal
· Extension of liquid life
· Minimized corrosion inside systems
· Reduced fluid removal
· Reduced working costs
· Increased equipment dependability
·
Simple automatic operation
Specification for any new transformer
Water content material at 20°C: < 10 ppm
Particle count number according to ISO 4406: < 12/10
Particle depend according to NAS 1638: < 3
Dielectric durability: > 75kv
The above information shows common values to get a new transformer. They must become adapted to match the type of transformer, its age group, and technologies. It is completely essential to keep the entire contamination degree of the transformer oil operating at lower levels to ensure the dielectric strength from the oil and also to minimize the risk of transformer breakdown.
Mixed gasses and moisture within transformer oil can cause arcing, corona discharges, and overheating-reducing the electric efficiency and lifelong of the transformer. Similarly, drinking water contamination in levels as little as 30 ppm (parts for each million) may adversely impact the insulating power of the oil. With ever-increasing standards with regard to energy effectiveness of energy distribution transformers, the need to efficiently degassing will end up even more important later on. Particles also impacts the functionality of insulation oil. User should use DVTP Transformer Oil Filtration Machine to purify utilized transformer oil and keep the transformer oil absolutely clean.