Contact Us
Acore Filtration Co. Ltd.

Tel : +86 132 06063693
Email : sales@acorefiltration.com
Mobile & Whatsapp : +8613206063693
Fax : +86 23 8132 4618
Add : No.2, Jianhe Road, Banan District, Chongqing, China
News
Application of Thermojet Oil Purifier,Oil Purification Machine
Thermojet Oil Purifier Manufactured by ACORE Filtration Co.Ltd is definitely an advanced, efficient and dependable oil filtration machine that purifying lubricants, hydraulic oils and other similar liquids. The thermojet Oil purifier is designed as process of the actual ACORE provides benefits and also results impossible with other kinds of oil filtration machine along with technology.

ACORE's Thermojet Oil Purification Machine effects the principal associated with air burning. The use of air flow or nitrogen bubbled via contaminated oil has been utilized to remove pollutants. But the utilization of this technique had been restricted since the volume of fuel required has been large because of limited combining of the gasoline with the fluid. The unique technologies embodied through the ACORE can make gas draining practical in addition to efficient due to the mixing plus intimate get in touch with of the air/gas with the liquid being washed. In addition, the Thermojet Oil Purifer makes use of the principal that this capacity of the gas in order to entrain dampness increases tremendously with temperatures. For example , having a 55-degree Celsius increase in heat, there is a 30-fold increase in the capability of propane to hold humidity.

This particular results in enhanced reliability regarding machinery as well as eliminates the advantages of frequent modify of lubricant oil. Typically Thermojet Oil Purification machine will require oil which has 1000 PPM of normal water down to a complete water content material of under 100 PPM within 5 passes from the oil with the unit. The Thermojet Oil Purifier away performs some other equipment for example settling aquariums, coalescing filter systems and centrifuges.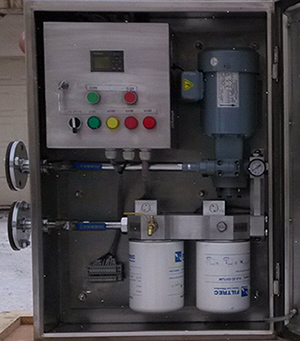 Thermojet Oil Purifier takes away dissolved lighting hydrocarbon gas such as gas and H2S from professional lubricants. Within refineries as well as petrochemical vegetation an ideal software for the Thermojet Oil Purification Machine is the associated with hydrogen sulfide from refrigerator seal essential oil. The Thermojet Oil Purifier returns typically the viscosity in the lube necessary oil and restores the olive oil flash point out like brand new levels. No more is there a have to dispose of natural gas laden and also sour lubrication oils; these types of oils could be purified along with reused. Pollutants disposed through the surface system.