Transformer Oil Filtration Machine
Transformer Oil Filtration Machine
High Vacuum Transformer Oil Filtration Machine Manufacturer
July 5,2018.
DVTP High Vacuum Transformer Oil Filtration Machine treats aged transformer oils to reach new condition and satisfy the required regular. Transformer Oil Filtration Machines are built along with variable capability and sorbent reactivation capacity. it tend to be of fixed or cellular design. This model completely restores dielectric oil to new oil condition and removes solid contaminations. Following is advantage of Vacuum Transformer Oil Filtration Machines:
1. Filtration is 20% cheaper compared to new oil.
2. Life expansion with effective improvement
3. Removal of water, gas and solid contaminations.
4. No shut-off as the online & off-line filtration processing abilities.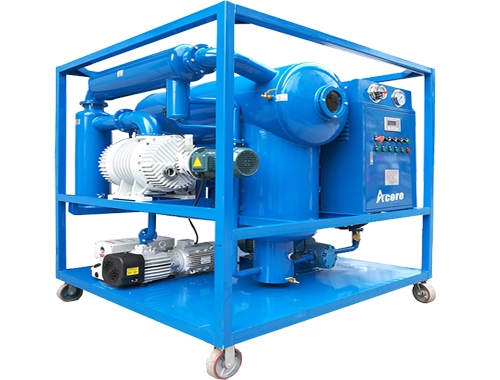 DVTP Vacuum Transformer Oil Filtration Machine fits treating transformer oil but it will surely make it fresh with the help of reclamation bags and also than through heating this and moving it via specially created filter along with subjecting that to extremely high vacuum dehydration and degasification treatment to attain following enhancements after purification as per standard of transformer oil
As one of leading Transformer Oil Filtration Machine Manufacturers, we can put the machine on mobile trailer, so the filtration process can be outside and at site. DVTP Vacuum Transformer Oil Filtration Machine enhance all the properties and makes aged oil to new, the machines satisfy ISO9001 and CE standard.