Transformer Oil Purification Treatment
Transformer Oil Purification Treatment
Online Automatic Transformer Oil Purification Treatment Systems
July 30,2018.
Online Transformer Oil Purification Treatment Equipment from ACORE Filtration Co.Ltd adopts advanced automatic constant temperature, infrared automatic liquid level control, automatic over-pressure shutdown protection device, control sensitive, accurate, ensure high-performance operation of equipment, it can achieve unattended online oil filtration and dehydration working, optional PLC automatic intelligent control, touch screen operation, and set dynamic display.
ACORE Vacuum Transformer Oil Purification Equipment use high quality vacuum pumps, oil pump, electrical appliances, heater, filter elements, flow meter, etc. Meanwhile, optional online moisture detector, frequency converter, dielectric strength tester, and gas analyzer are available, the whole machine structure is generally mobile open type, according to user requirements it can be fixed, closed, concealed, canvas, trailer. Vacuum Transformer Oil Purification Equipment is mainly used for coarse filtration and precision filtration of industrial lubricants with large dust and large particles. It is suitable for heat treatment oils such as steel ball mills and gear mills, engine running-in oils, and trench oils for small and medium-sized fertilizer enterprises. Removing the moisture, gas and impurities of complex oils. Restoring the performance of oil products and ensure the normal operation of power system.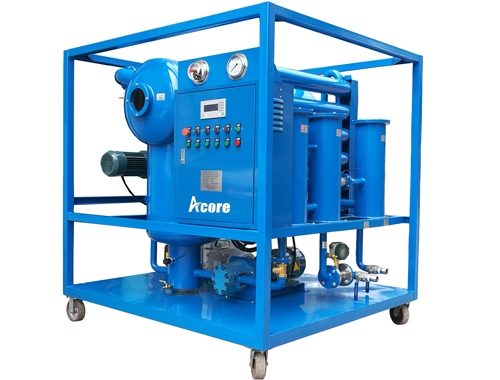 ACORE Transformer Oil Treatment Equipment equipped with protection or monitoring devices: motor overheating, overload, phase loss protection device, oil pump anti-air protection device, heater anti-dry device, vacuum pump oil circulation Supplementary fuel tank, infrared automatic oil defoaming device, liquid level automatic control device, overpressure shutdown protection device. The transformer oil filter uses German fluid sensors, and other major electrical appliances use products to ensure the accuracy, safety and stability of the equipment control system.
The manufacturing process of Vacuum Transformer Oil Treatment Equipment fully considers the temperature, time, vacuum degree, evaporation separation area, space and other factors that are favorable for water evaporation separation, and the flow field distribution control, flow state control, and oil-water interface state control of the separation medium in the equipment. The oil-water interface height control, oil-water molecular foam thickness control, liquid level control, and pressure control realize free and efficient separation of free water and dissolved water (micro-water, emulsified water). The transformer oil treatment equipment equipped with an economical and practical plate and frame coarse filter system for the complexity of oil contaminants. At the same time, multi-stage large-flux step-by-step encryption of filter elements and filter bags of various filtering materials, combined with a variety of filtering technologies to ensure that the purification rate of one filter impurities reaches 90% the above.
The Automatic Transformer Oil Purification Treatment Equipment can be equipped with PLC intelligent control, touch screen operation and dynamic display according to the users' requirement. The main power components, filter equipment and electrical components can be selected with high quality imported products to improve the performance of the equipment. The structure of the Transformer Oil Purification Treatment Equipment can be made into a mobile type or a fixed type, and can be made into a fully enclosed type, a concealed type, a canopy, an open type, and the color of the device can be arbitrarily selected as needed.