Lubricating Oil Purifier
Vacuum Lube Oil Filtration Machine
April 24,2017.
VLF Vacuum Lube Oil Filtration Machine includes a motor-driven special gear pump, with low noise, self-absorption ability, smooth operation and so on.
High-pressure pipeline of Lubricant Oil Purifier with overflow protection device can effectively protect the safety of the hydraulic system. The use of thermal relay protection prevents motor damage caused by motor overload. The coarse filter protects the pump and extends the life of the main filter.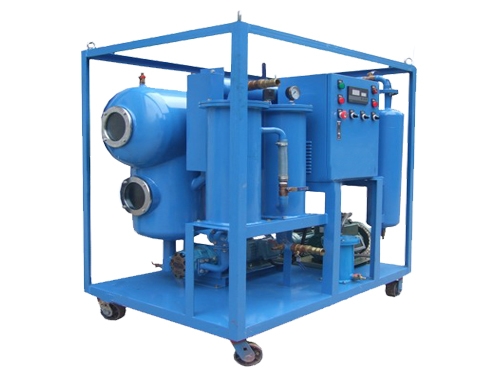 VLF Lube Oil Filtration Machine inlet and outlet port hose connected to the inlet and outlet joints, when oil from the filter into the port was inhaled through the filter to exclude the larger particles after the magazine, into the gear pump. The gear pump is driven by the rotation of the motor to produce a squeeze force, so that oil into the filter bed, penetrate the filter paper will filter the oil magazines. The oil is then removed from the tubing when the oil pressure exceeds the specified value.
Safety valve immediately start, so that the oil in the oil pump in their own cycle, the oil is no longer rising to ensure the safety of the equipment, oil valve for oil pressure and other physical and chemical properties of the experiment.
Lubricant Oil Purifier with chassis roller structure can be pulled by pulling the lever. The main components used by the United States imported Cimtek Simtek filter, filter with polyester fiber material, while the choice of absorbent type filter.
Using high-precision filter, filtered oil can reach the national standard NAS1638 standard level 7, from the appearance of oil significantly from the dirty to clear. My company for large and small machine processing enterprises to develop economic-type oil filter can effectively filter the impurities in the oil, clean oil.
The Lube Oil Filtration machine use different filter elements according to the different requirements, choose a different precision to achieve the desired results. The covers of filter tanks with quick opening structure, without any tools will be able to quickly and quickly open the cover, replace the filter. The panel is equipped with a pressure gauge for a continuous indication of the operation of the system.
Lubricant Oil Purifier is composed of gear wheel pump, filter, safety valve, return valve, filter bed, rear bracket, chassis, rod, coupling, and motor components.
The gear pump, coupling and motor of VLF Lube Oil Filtration machine are mounted on the chassis, filter device installed in the front side of the gear pump. The filter is equipped with an oil return valve, and the filter bed is installed above the gear pump, wherein the filter plate is arranged alternately in the filter chamber.