Contact Us
Acore Filtration Co. Ltd.

Tel : +86 23 81324618
Email : sales@acorefiltration.com
Mobile & Whatsapp : +8613206063693
Fax : +86 23 81324618
Add : No.2, Jianhe Road, Banan District, Chongqing, China
Technical Support
MTP (1000LPH) Transformer Oil Filtration System Mounted on Mobile Trailer
MTP Mobile Transformer Oil Filtration System mounted on trailer from ACORE is mainly used to remove impurities and recover or improves the breakdown voltage strength of transformer insulation oils for outdoor usage. The insulating oil is definite an integral portion of most big power transformers. It acts two main roles, like a cooling real estate agent and as the insulator among internal elements. Contamination of the oil leads to early failure from the transformer. This specific contamination could be in the form of water, dissolved gas, or overseas particles. Through processing of vacuum dehydration plant such as ACORE Vacuum Oil Purification Plant, these contaminants can be removed coming back the defensive oil to initial specifications. MTP Transformer Oil Filtration System incorporates higher vacuum system with mechanical purification to insufficient water, degasification in addition to filter infected oil. Designed with performance and flexibility to meet an array of applications along with features for example: an outlet pump effective at drawing essential oil from lengthy distances plus low elevations, a unique multi-level vacuum slot provided design for quick degasification, a classy heating manage scheme to be able to insure secure and effective processing in the contaminated necessary oil, and adjustable speed oil pump to come back the prepared oil towards the transformer becoming serviced. Manage, monitoring, and even user discussion is achieved through a commercial grade touch screen operator with PLC. All variables are easily seen and modified through this specific interface together with viewing regarding current together with historical information.

The main functions of MTP Mobile Transformer Oil Purification Plant get rid of moisture, mixed gasses as well as particulate through transformer dielectric oils by large vacuum degasification, dehydration and also filtration. Mobile variations are available in numerous sizes using the additional capacity to remove dampness from the energetic parts of a good off‐line (de‐energized) transformer just before oil completing for new installs and for transformers undergoing servicing. These might have auxiliary excessive vacuum capacity and/or dried out air devices for vacuum evacuation, machine break plus dewpoint screening. Mobile Transformer Oil Purification Plant is also used for transformer evacuation and even filling routinely have data signing to provide a document of new transformers had been processed throughout installation. These types of systems may also have the functions of transformer vacuum drying and oil filling.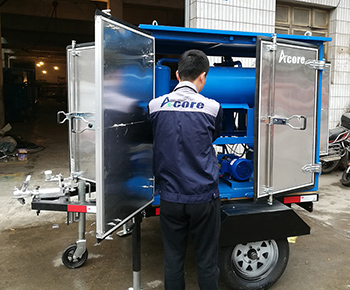 MTP Mobile Transformer Oil Filtration System also can use fuller-earth device to help regenerate utilized or oxidized oils and is used for transformer 'desludging'. Fullers earth is utilized to correct energy factor, interfacial tension, neutralization number as well as color.
Cellular variations consist of ball problem bumper draw trailer, pintle hitch movie trailer, gooseneck trailers, straight articulated vehicle and semi-trailers depending on program flow price and preferred options.

All programs are available together with optional PLC controller to allow automotive operation. A number of other options are accessible such as online moisture sensor, gas trap system, BDV tester, etc. for humidity collection, dried air models, hoses along with reels, booster pump for very hot oil apply and many others.

Particular applications of Transformer Oil Filtration Systems Manufacture by ACORE are available for users energized.