Contact Us
Acore Filtration Co. Ltd.

Tel : +86 23 81324618
Email : sales@acorefiltration.com
Mobile & Whatsapp : +8613206063693
Fax : +86 23 81324618
Add : No.2, Jianhe Road, Banan District, Chongqing, China
Technical Support
Stainless Steel Vacuum Oil Purifiers Machine
ACORE developed Vacuum Oil Purifiers Machine With stainless steel materials, which has the advantages of small size, light weight, convenient movement, low noise, long continuous working time, stable performance and convenient operation. It is an ideal equipment for waste oil treatment to remove water, gas and impurities, ACORE Vacuum Oil Purifiers are wildly used in transformer substations, industrial and mining enterprises, machinery manufacturing, food producing, etc.
Application of our Stainless Steel Vacuum Oil Purifier Machine as following
1. The Oil Purifier Machine can be used for all kinds of oil-immersed transformers, oil-immersed current and voltage transformers and oil-less circuit breakers for on-site oil filtering and oil replenishment.
2. This machine can be used for on-site hot oil circulation drying of the above equipment, especially for hot oil circulating drying of oil immersed current, voltage transformer and oil-less circuit breaker.
3. This machine can be used for on-site vacuum oil filling and oil replenishment and equipment vacuuming for sealed oil immersing equipment.
4. The Vacuum Oil Purifier can also be used to regenerate and purify mildly degraded industrial lube oil, cooking oil to achieve the performance of qualified oil standards.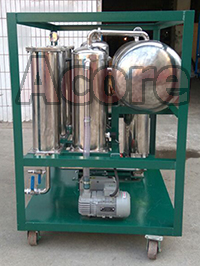 The Vacuum Oil Purifier Machine has the following advantages:
1. small size, light weight, is one-half the weight of similar products.
2. Improve the design of the crude oil gas separator. The use of vacuum oil feed, the installation of a tubular rotary injector, reducing the resistance, speeding up the rotation speed, and increasing the oil and gas separation effect.
3. Increased the regeneration and purification function of metamorphic oil. In the past, the vacuum oil purifier was only a single way to remove impurities and moisture. The machine added a silica gel net oil system and integrated the silica gel net oil with the impurity filter. After filtering the impurities from the mildly deteriorated transformer oil, The adsorption and regeneration of the silicone oil purifier makes it meet the standard of qualified oil.
4. A multi-functional Oil Purifier Machine, it is used in the field and the original oil-filled equipment is used as the oil storage tank, the hot oil is circulated between the machine and the equipment, so that the oil filtering, regeneration, and hot oil circulation are performed.