Contact Us
Acore Filtration Co. Ltd.

Tel : +86 132 06063693
Email : sales@acorefiltration.com
Mobile & Whatsapp : +8613206063693
Fax : +86 23 8132 4618
Add : No.2, Jianhe Road, Banan District, Chongqing, China
Technical Support
Why Dry Air is Needed in Transformer? -Acore Dry Air Generator
Acore Filtration Co.,Ltd is a manufacturer of Dry Air Generator for water removal within air. These types of dry air generators are created to suit the transformer application along with a refrigerator air dryer, auto discharge valve, air filter with regard to removal of contaminants up to 0.1 Micron. Heatless air drier is the desiccant type air dryer regarding achieving the dew stage of -70 degree.

Acore Filtration Co.ltd is a leader and a reliable manufacturer of transformer dry air generators together with installs all over the world. The dry air generator installed tend to be performing using ultimate fulfillment, and Acore teams supply quick service group and supported with a crew of devoted engineers and also technicians.

Functions
1 . Simple hassle free procedure
2 . Utilizes natural atmosphere from the environment
3. Constant generation regarding dry surroundings
4. Built with online dew point dimension instrument
5. Economic and reduced upkeep system becoming regenerative kind.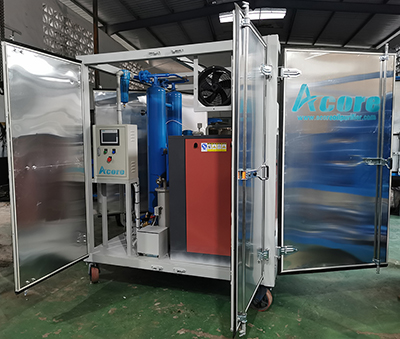 Why dried air is needed in transformer?
1 . Absolutely no atmospheric weather enters the actual transformer because they build a positive stress in the transformer, when the transformer is opened up during fitted of the add-ons.
2 . Dried air may be used to facilitate time during inner fitments from the transformer.
3. It shields the atmospheric moisture getting into the transformer thus helps you to retain all of the drying procedure done in the particular transformer in transformer manufacturer.
Dry Air Generators for Transformers
possess gained tremendous popularity during the last few years due to the benefits these people bring along. The supply of squeezed air is very important utility intended for modern day lab. Compressed air comprises dust, oil along with water which could wear pneumatic instruments influencing the life along with performance involving analytical musical instruments.
Installing dry air generator is important to get smooth working of the present day labs in addition to transformers. While visiting operation electric equipment such as transformer and also reactor need constant servicing as likelihood of easy humidity affecting all of them is higher. This is when dry air generators for transformers can be used. These machines supply waterless air preventing the possibilities connected with developing anoxia asphyxia upkeep team. These kinds of dry air generators for transformers are usually economical, dependable, convenient plus safe.
Transformer Dry Air Generator manufactured by ACORE are perfect transformers and even laboratory utilization as they offer constant circulation of dry up and thoroughly clean compressed environment. By giving absolute free of moisture and genuine air, these types of transformer dry air generators can make for the perfect option for research laboratory and transformer usage. Almost all dry air generators are made using high quality material. Contact us at: sales@acorefiltration.com